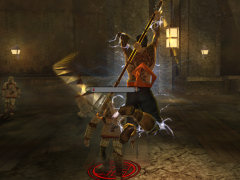 The Demon Staff is a staff weapon style. It is the strongest of the staves, replacing Golden Star and Flawless once obtained.
Obtaining Style
Edit
If you have the PC version of Jade Empire, you can acquire this style from some bones outside of the Unfinished Tomb in the Necropolis.
In-Game Description
Edit
Little is known about the demon staff. A weak mind will not be able to control it for long, but the wielder of this staff will do more damage than with any other staff.
Drains Focus
+50% damage over basic Staff style.
Ad blocker interference detected!
Wikia is a free-to-use site that makes money from advertising. We have a modified experience for viewers using ad blockers

Wikia is not accessible if you've made further modifications. Remove the custom ad blocker rule(s) and the page will load as expected.