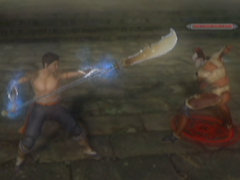 Flawless is a staff weapon style. It is superior to the Golden Star style and replaces the previous style once it is obtained.
Obtaining Style
Edit
Imperial City Market District - Purchased from blacksmith
Tien's Landing - Purchased from Shipeng in Beggars Pier. In order for him to be available, you must either refuse his offer (Open Palm), or after breaking the dam controls, convince Captain Shipeng to kill him(Closed Fist).
In-Game Description
Edit
The scrolls of Peng Qi contain the story of a monk who shaped a flawless staff using only swatches of silk. At first, the silk did nothing but polish the rough wood, but after thirty-four years the staff was perfectly smooth, straight, and flawless. After finishing the staff, the monk told his abbot he was going for a walk to test his new staff, and he never returned. An exiled warrior eventually discovered the staff and attached a sharp blade that is every bit as perfect as the staff itself. It has since been adorned with precious metals, but it remains as flawless as ever.
Drains Focus
+25% damage over basic Staff style.
Ad blocker interference detected!
Wikia is a free-to-use site that makes money from advertising. We have a modified experience for viewers using ad blockers

Wikia is not accessible if you've made further modifications. Remove the custom ad blocker rule(s) and the page will load as expected.