Jade Empire, unlike some BioWare games, was not designed to be edited by players, but a certain amount has been achieved despite this.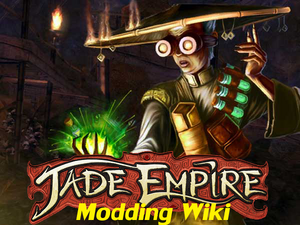 Tips and hints for modders are well beyond the scope of this wiki. Fortunately however there is another Jade Empire related wiki now that exclusively specializes on modding the game: The Jade Empire Modding Wiki There you will find modding tutorials, documentation of the various files and file formats, how-to's for the various tools and an introduction to the scripting language.
Downloadable modifications
Edit
Ad blocker interference detected!
Wikia is a free-to-use site that makes money from advertising. We have a modified experience for viewers using ad blockers

Wikia is not accessible if you've made further modifications. Remove the custom ad blocker rule(s) and the page will load as expected.