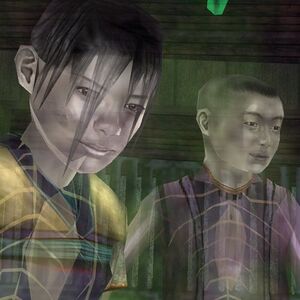 The Drowned Orphans is a quest which can be obtained in the ruins of Old Tien's Landing, during Chapter 2. It requires the player to bring rest to the spirits of two orphans who were killed when Old Tien's Landing was flooded.
Walkthrough
Edit
The quest begins when the Player enter the remains of the orphanage, which can be found in the southwestern part of the ruins. After the Player defeats a Rat Demon found there, Bin and Miao will emerge and talk to the Player. They were orphans under the care of a man named Kindly Yushan, but when the completion of the Great Dam caused the valley to flood, Yushan did not appear — the children at the orphanage, unable to escape the building, were drowned. Bin believes that Yushan may well have tried to rescue his wards, and that if he could be found and convinced to return to the orphanage, the two spirits might be granted peace. Miao, who Bin says has become "strange" in death, simply wishes revenge on Yushan, believing that he simply didn't care enough to do anything when the flood came. Yushan can be found in the Teahouse in Tien's Landing, and says that he tried to save the orphans but was unable to reach the orphanage. He tells the player that he still feels guilty about his failure, and wonders whether he would have been better off dying in the attempt.
The simplest way to finish the quest is to kill Yushan in the Teahouse, granting Miao her revenge. Alternatively, the player can tell Yushan to return to the orphanage — Yushan agrees, acknowledging that he must face the demons of his past. If Yushan goes to the orphanage, players can then side with either Miao or Bin — the former will kill him, while the latter believes that if Yushan buries the bones of the orphans, giving them a proper burial, the spirits will be at peace, at least for a while. If Miao gets her way, Bin will express regret, saying that Miao is likely to get worse and that he does not expect either of them to ever find rest. If the player sides with Bin, however, they are treated to what is possibly the game's most moving scene, where both he and Miao appear to gain comfort from the burial of their bones, and thank the player before fading. Yushan also thanks the player, saying that he can finally move on with his life.